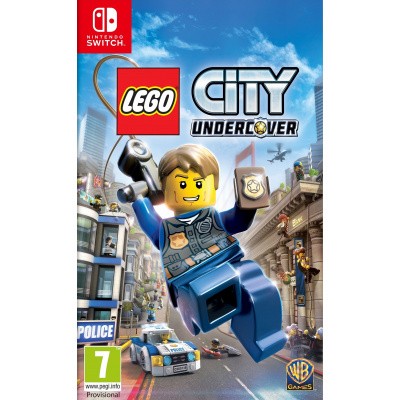 Afbeelding kan afwijken van het origineel
Lego City Undercover SWITCH
Bekijk alle Switch Games
---
Join the Chase! LEGO CITY Undercover is coming to current and new generation consoles for the first time. In one of the most expansive LEGO videogames to date, players become Chase McCain, a police officer who goes undercover to hunt down the notorious and recently escaped criminal, Rex Fury, to put an end to his city-wide crime wave. This open-world LEGO adventure allows fans and newcomers to explore the sprawling metropolis that is LEGO CITY with more than 20 unique districts to investigate, filled with car thieves to bust, vehicles to navigate, mischievous aliens to capture, hilarious movie references to discover, lost pigs to rescue and of course, hundreds of collectibles. With 15 special assignments to conquer, LEGO CITY Undercover brings together witty, original storytelling with signature LEGO humor to create a fun-filled experience for players of all ages, available on the PlayStation4 computer entertainment system, Xbox One, Nintendo Switch and PC. Features: - BECOME LEGO CITYS FINEST: Assume the identity of undercover police officer, Chase McCain, and track down the fiendish Rex Fury to finally put an end to his city-wide crime wave. - EXPLORE THE CITY: With more than 20 distinct districts to investigate, LEGO CITY is a bustling metropolis that is ripe for exploration and filled to the brim with people on the streets to interact with, criminals to take down and hundreds of collectibles. - BE A MASTER OF DISGUISE: As a man of many talents, Chase McCain has eight disguises to choose from, each with unique skills and abilities to infiltrate every corner of the city, allowing him to access places a regular old officer cant. - OVER 100 VEHICLES: In LEGO CITY, every vehicle on the street can be commandeered with more than 100 to choose from so players can get behind the wheel of sports cars, motorcycles, helicopters and more to chase down criminals or take a leisurely ride through the urban jungle to check out the sights. - FIGHT CRIME: Take down criminals with hand-to-hand combat or arrest bad guys using Chases handy grapple gun and standard issue police handcuffs. - THE CAST: Chase is joined by officer Frank Honey, Chief of Police Dunby and paramedic Natalia Kowalski, who are just a few of the more than 300 unlockable and playable characters that gamers will meet throughout the adventure. - HUMOUR, HUMOUR, HUMOUR: Featuring an original storyline, LEGO CITY Undercover is chock-full of signature humour with hilarious movie and music references peppered throughout the open-world.
---
| | |
| --- | --- |
| Artikelnummer | - |
| EAN nummer | - |
| Platform | Switch |
| Game_genre | Actie Avontuur |
| Release | 10 februari 2017 |
| Leeftijdsclass | 7 jaar |
| Hoofdcategorie | Game |
---
Ruilen en retourneren
Kan ik mijn online bestelde producten ook ruilen?
Ja dit kan onder bepaalde voorwaarden!
Wanneer kan een product geruild worden?
Bij een beschadiging ontstaan tijdens transport
Bij een defect
In geval van een foutieve levering
U bent van gedachten veranderd (ongebruikt product)
Bij twijfel kunt u altijd contact opnemen met onze klantenservice.
Via internet bestelde nieuwe artikelen mogen binnen 14 dagen na ontvangst geruild worden mits:
Nieuwe games nog verzegeld (sealed) zijn.
Nieuwe producten ongebruikt en onbeschadigd zijn.
Bij gebruikte games:
Wilt u een gebruikt product retourneren? U dient zelf zorg te vragen voor de retourkosten. Daarnaast kan u uw producten ook kosteloos retourneren in 1 van onze winkels. .
Adres voor retouren:
Gameshop Play-It Stadskanaal
Europalaan 28
9501 CW Stadskanaal
Het retourneren van een pakket is voor eigen rekening, tenzij het een fout van Gameshop Play-it betreft. Ruilen kan ook met bon/factuur in een van onze 3 vestigingen.
---
---
Let op, product zit niet meer in de originele seal vanwege laatste winkelexemplaar
---
Shop meer