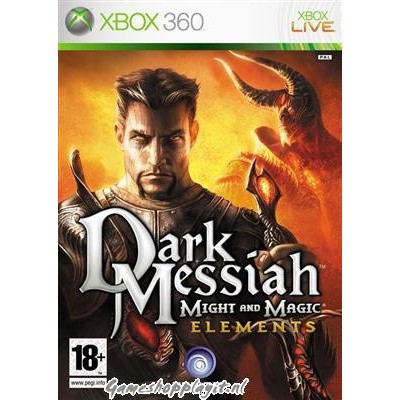 Afbeelding kan afwijken van het origineel
Dark Messiah Of Might And Magic Elements XBOX 360
---
Ontdek een nieuws soort actie game aangedreven door een verbeterde versie van Valve?s Half Life 2 Source engine. In het Might & Magic® universum, zal de speler meedogenloze gevechten in een donkere fantasiewereld ervaren. Become an expert warrior, mage or assassin, using a vast array of devastating weapons, against huge and vicious creatures in a deep and captivating fantasy. Features: - Cutting-edge technology: Experience an enhanced version of the famous Source engine, including new jaw-dropping environments and incredible special effects. - Discover the fresh perspective of a view with complete body awareness, realistic movements and physics rendering, making it the first fantasy action game featuring a complete first-person combat system. - Never-ending action: Challenge the forces of evil in 12 huge levels and learn to master over 30 weapons and a variety of devastating spells. Engage the enemy in intense melee combat with swords, bows, staffs and daggers, summon magic powers against the legions of darkness or sneak in the shadows to stalk nefarious creatures. It?s heart-pounding action where success in combat will dictate destiny. - Evolve your character: Extend your gameplay experience without being limited to a single discipline. Learn powerful new spells and attacks using Dark Messiah?s unique Skill Evolution System as you progress through the game. - The Might & Magic universe?s darkest and most engaging side: Eighteen years after the events of Heroes V, you become the young hero Sareth, trained in the art of magic and war in order to fight the prophecy of the Dark Messiah. But the revelations of your past may alter your course and reveal a path to the truth. Explore a secluded region of Ashan populated with fearless orcs, savage goblins, dreadful undead, elusive trolls, massive dragons and many other creatures that defy nature?s creation in both size and cunning. - A revolutionary multiplayer mode: Get ready to battle with up to 32 players in the revolutionary Crusade mode, which will allow you to gain experience and new equipment across dynamic online campaigns. Enlist with the humans or the undead and choose among five complementary character classes. Wage epic online battles, sprawling over multiple zones, from the dark Necromancer?s lair at Nar-Heresh to the man-made splendor of Stonehelm.
---
| | |
| --- | --- |
| Artikelnummer | - |
| EAN nummer | - |
| Platform | Xbox 360 |
| Leeftijdsclass | 18 |
| Hoofdcategorie | Game |
---
Ruilen en retourneren
Kan ik mijn online bestelde producten ook ruilen?
Ja dit kan onder bepaalde voorwaarden!
Wanneer kan een product geruild worden?
Bij een beschadiging ontstaan tijdens transport
Bij een defect
In geval van een foutieve levering
U bent van gedachten veranderd (ongebruikt product)
Bij twijfel kunt u altijd contact opnemen met onze klantenservice.
Via internet bestelde nieuwe artikelen mogen binnen 14 dagen na ontvangst geruild worden mits:
Nieuwe games nog verzegeld (sealed) zijn.
Nieuwe producten ongebruikt en onbeschadigd zijn.
Bij gebruikte games:
Wilt u een gebruikt product retourneren? U dient zelf zorg te vragen voor de retourkosten. Daarnaast kan u uw producten ook kosteloos retourneren in 1 van onze winkels. .
Adres voor retouren:
Gameshop Play-It Stadskanaal
Europalaan 28
9501 CW Stadskanaal
Het retourneren van een pakket is voor eigen rekening, tenzij het een fout van Gameshop Play-it betreft. Ruilen kan ook met bon/factuur in een van onze 3 vestigingen.
---
---
Uitgebreide versies of extra content bij gebruikte games kunnen niet werken als daar een code (DLC) voor nodig is! Deze zal dan apart moeten worden aangeschaft via de online stores van uw console, wij verkopen deze niet!
---
Shop meer